Layers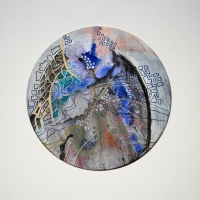 Layers, embraces the complexities of nature to celebrate it's inherent vastness and simplicity. This exhibition also speaks of the artist's personal journey over the last year; these paintings were born as a direct expression of living with physical and emotional pain, working through realisation to acceptance on the road to recovery.

Having been at times unable to continue physically functioning as usual in her everyday life, Lisa states that she created an alternate present and future through these works, with her own daydreamt travels through unexplored territories a welcome respite from her pain. Abstracted suggestions of birds and other life are interspersed with geometric forms appearing in places and softened by the surrounding shapes and colours.

The artist's choice of colours is evocative of the four elements: earth, sky, water and air. Compositions are reminiscent of topographic maps; satellite images of earth; views of ocean and earth from a 'plane window; a desktop globe of the world; a mariner's map of old; layers of stratum on the cutaway of a cliff face or the view of an endless valley and distant hills from the summit of a mountain peak. Lisa's works are immense – not in physical size but in the sense of endless planes within them - the longer the viewer's gaze lingers, the more possible it is to venture into the works and explore endlessly.

Lisa's works are intricate – they are tiny landscapes of biological ecosystems supporting molecular cells in a hypothetical petri dish, knitting the growing cells together to form an enduring micro-geography. A biological analogy is fitting when we consider how the physical is interconnected with the emotional, the mental and the spiritual landscapes and processes. The artist was only able to momentarily overcome her debilitating pain while she worked on these paintings, to be dogged by it faithfully when she set down her brush once more.

These works underscore the intersecting fragility and strength of the natural environment and the nature of the self. The layered mix of media is supported by fragile paper, firmly framed in wood and highlighted in the choice of titles of each work. It is the culmination of a year's worth of work through physical pain, acceptance, endurance and vitality. A year's worth of emotional growth, of honouring treasured travels in the past and of imagining future journeys with hope.

Layers speaks of a complexity that is at once immediate and immense, the easily comprehended and the incomprehensible, all of which is encapsulated in nature and in the natural cycles of pain and growth in the journey of the human self. Deeply personal and yet universal, Layers is a compelling exhibition that speaks at once to timeless human experiences of journeys of the self and journeys on the earth.
Event Information
| | |
| --- | --- |
| Event Date | 10-11-2016 |
| Event End Date | 10-22-2016 |
| Location | Me Artspace |